Custom Search
Alice Springs and Central Australia offers the visitor a wonderful range of attractions and activities, from the world famous Alice Springs Desert Park and School of the Air, through to the ancient MacDonnell Ranges and the popular Palm Valley located in the Finke Gorge National Park.

You can spend a couple of weeks here in Alice Springs or a whole year, just to see and experience everything this wonderful region has to offer, with a number of attractions located within the town, and many more beyond the town limits.

Following is a list of some of the many attractions. Take the time to also check out the events, tours and immerse yourself in some of the Aboriginal culture, arts, crafts and galleries.
The following Alice Springs attractions are within easy reach, some you can walk to, others requiring a short bike or cab ride.

• Cnr Larapinta Drv & Memorial Ave, ALICE SPRINGS NT 0870
• Ph: 08 8951 1120 •
•

• Sometimes referred to as the 'Araluen Cultural Precinct', as the Araluen Arts Centre is one of the attractions, the 'Alice Springs Cultural Precinct' offers a number of fascinating attractions in the one unique location. A single entry fee provides an experience encompassing visual and performing arts, Aboriginal culture, heritage and natural history:
The site is culturally significant to Aboriginal people of the area. There are seven registered sacred sites and trees of significance on the Precinct which belong to the 'Two Women Dreaming Track'.

All attractions are accessible by wheelchair. Lift and ramps connect all floors. There are accessible toilets and designated parking for holders of disabled parking permits.
---
• 9 Stuart Terrace (at the base of Billy Goat Hill
(opposite Royal Flying Doctor Service), ALICE SPRINGS NT 0870
• Contact: see website • Web: www.reptilecentre.com.au
• Opened Daily 9:30 am to 5:00 pm — Talks daily at 11 am, 1 pm, 3:30 pm
• Images from Alice Springs Reptile Centre

• Hands on fun for everyone! Come and see thorny devils, frilled neck lizards, goannas, pythons, venomous snakes, taipans, and Terry the saltwater croc.

Check out some of our images from Alice Springs Reptile Centre.
---
• Larapinta Drive, ALICE SPRINGS NT 0870
• Contact: see website
• Web: www.alicespringsdesertpark.com.au
• Images from Alice Springs Desert Park

• The park introduces visitors to the incredible but subtle richness of Australia's arid zone. Designed to move well beyond the boundaries of traditional zoos, botanic gardens and museums, the park has adopted a holistic "habitat-based and story driven" approach. Discover the desert in its entirety, the landscapes, animals and plants, and their traditional use and management by Aboriginal people.
Nestled in the foothills of the West MacDonnell Range, just ten minutes from the centre of town you will experience diverse and spectacular landscapes and learn about the adaptations of hundreds of species of desert flora and fauna. There are:
Free-flying birds of prey display.

Desert Rivers, Sand Country, and the Woodland habitats to explore.

Close encounters with rare and elusive wildlife in the Nocturnal House.

With a changing theatre presentation that could include 'The Changing Heart', where four and a half billion years of desert evolution will flash before you in a 20 minute cinematic journey, or 'Wild Australasia', where you learn about the surprising diversity of life within our arid habitats.

Interactive interpretive exhibits.
Check out some of our images from Alice Springs Desert Park.
---
• Visitor Centre, 80 Head St, ALICE SPRINGS NT 0870 • Contact: see website
• Open all year round - Opening hours:
Mon-Sat 8.30 am to 4.30 pm / Sun & Public Holidays 1.30 pm to 4.30 pm
(Closed Good Friday and Christmas until and including New Years Day)
Last entry 4.00 pm – Entry fees apply
• The Alice Springs School of the Air Visitor Centre is a fascinating place to take visiting friends and family. It is an interpretive centre offering visitors from around the globe a virtual journey in "The World's Largest Classroom".

The visitor experience includes a film and guide presentation providing a narrative about the distinctive history which dates back to 1951. Also shared are stories about our student's outback lifestyle… an inspiring insight to a uniquely Australian school. Discover the innovative techniques making it possible for children living in remote Central Australia to participate in school classes without having to travel vast distances every day. Have a chat to the guides, view live or recorded lessons, join in on a presentation and enjoy the displays. Take the opportunity to visit and be inspired by what has been and continues to be one of the most unusual methods of education in the world.

Have a chat to our guides, view lessons, join in on a full presentation and enjoy the
displays and our retail shop.
---
Alice Springs Telegraph Station Historical Reserve
• Located on the northern edge of town, the Alice Springs Telegraph Station Historical Reserve marks the original site of the first European settlement in the region and originally included the area now covered by the township of Alice Springs.
---
• Contact: see website
• 33 meetings a year, fortnightly or weekly
• Red Centre racing with thoroughbred action throughout the year. A day at the races in picturesque surrounds, idyllic backdrop and superb facilities.
---
• Contact: see website
• Located near the base of ANZAC Hill, the RSL Club War Museum is acknowledged as having one of the most significant collections of war memorabilia in Australia, dating from circa 1854 to the Timor conflict. To see more information, images and 'Alice Springs & District Roll of Honour', click here.
---
• This hill is a special place to the Aboriginals, its name means 'Corkwood story'. The story is about a woman who avoids the company of men. The hill is also the site of the ANZAC Hill War Memorial. It is also a popular place for tourist to get a birds eye view of Alice Springs, the MacDonnell Ranges, Heavitree Gap and the surrounding region.
---
• 61 Larapinta Drv, ALICE SPRINGS NT 0870 • Contact: see website
• Part of the Alice Springs Cultural Precinct, and sometimes referred to as the Araluen Cultural Precinct, this is the focal point of Alice Springs performing and visual arts scene, incorporating galleries and a theatre.
Galleries
The galleries has a program of exhibitions with the focus on Aboriginal art from Central Australia and contemporary art by local and Australian artists.


Theatre
The annual theatre program includes performances by national touring companies and performers, as well as local productions.


Albert Namatjira Gallery
one of the galleries in the Araluen Arts Centre, displaying a rotating selection of paintings by Albert Namatjira, his descendants and contemporaries.


Yeperenye Sculpture and the Sculpture Garden
— The Yeperenye Sculpture is an collaborative public art work that celebrates the Yeperenye (Ayepe-arenye) caterpillar, which is the most important of the three caterpillars that are the creative ancestors of Alice Springs. The three meter high sculpture was developed by metal artist Dan Murphy, working with students from the Center for Appropriate Technology's ATWork program. There were mentoring based workshops with school children and local artists, developing one hundred community generated panels to decorate the caterpillar.

— The Sculpture Garden is home to a 300 year old Corkwood Tree, around which the Araluen Arts Centre was designed. This tree, another one at the front of the building and Big Sister Hill are considered sacred by the Arrernte people. Public art located in the Sculpture Garden and the environs of Araluen include major works by prestigious Australian sculptors Joan Brassil - Time Mirages (1987) - inspired by the hand back of Uluru to it's traditional owners, and Trevor Weekes - The Split (1984) - depicting notable Central Australian landmark Standley Chasm.
---
Bird watching, ornithology, ornithologist, twitcher...


•

Central Australia and Alice Springs is a bird watching paradise, even more so following rainfall periods that turn the normally dry arid season into a lush green habitat. During the dry periods, there are still plenty of bird species to be seen. For those visitors with little time, there are some great places to see the local bird life in Alice Springs, such as the Alice Springs Desert Park, Olive Pink Botanic Garden and the Alice Springs Treatment Plant (Alice Springs Sewerage Ponds).
---
CAAMA Visitor Centre - 'Satellite Dreaming'
• Central Australian Aboriginal Media Association
• Contact: see website
• The CAAMA Visitor Centre is a static and interactive display giving visitors a brief history of the birth of Indigenous Media in Australia. The CAAMA display tells the story of its humble beginnings and gives visitors a glimpse of the Aboriginal Media Association in operation and acknowledges the creative achievement of many Aboriginal people and communities over a vast geographical area.
---
• Memorial Ave, ALICE SPRINGS NT 0871
• Contact: see website
• Part of the Alice Springs Cultural Precinct, the Aviation Museum is located in the original Connellan Airways Hangar and houses two early flying doctor planes among other historic aircraft and aviation memorabilia. There is also a Memorial dedicated to the memory of Keith Anderson and Bob Hitchcock who perished after the 'Kookaburra' made a forced landing in the Tanami Desert on the 10th April 1929 while on their way to search for Charles Kingsford Smith and Charles Ulm.
---
Earth Sanctuary World Nature Centre (ESWNC)
• Contact: see website


•

Experience the magic of the Australian Outback at one of the most magical locations in Central Australia, just 15 minutes south of Alice Springs. Earth Sanctuary is a family owned and operated center for 'Sustainable Living' and has a number of tour and school programs that have educated, motivated and inspired local, national and international visitors for over a decade.

Your are invited to contact our enthusiastic team and a book an exclusive guided tour that best suits your travel, education or entertainment needs. We can guarantee you a wonderful and informative experience that will compliment your once in a lifetime journey into the heart of this ancient and magnificent country. We specialise in teaching local culture, ecology and astronomy and combine these wonderful insights with great food and beverages served from our outdoor bar and grill. See you at the Sanctuary.
---
Flynn Trail


•

The unique heritage tour provides the opportunity to experience the Outback through the eyes of Rev John Flynn, a Presbyterian clergyman, visionary and photographer. The trail takes in
Fred McKay Museum
John Flynn's Grave Historical Reserve
---
Gathering Garden
• Civic Centre, Cnr Gregory Terrace and Todd St, ALICE SPRINGS NT 0870


•

Located in the heart of town, is this recent opened public art and garden provides an insight into the history and Indigenous Culture of the region. Although only small, it offers a great place to site and contemplate. Over time the trees and shrubs will be larger, providing more shade.
---
Historic Buildings
• The Telegraph Station (the original settlement), Adelaide House, Old Stuart Town Gaol, The Residency, The Historic Precinct and Anzac Hill all preserve some of the history of European settlement from the 1870's.
Adelaide House

— part of The Flynn Trail (a self-guided heritage tour)

• Todd Mall, ALICE SPRINGS NT 0870
• Contact: see website
• Open most weekdays 10 am - 4 pm / Saturday 10 am - 12 pm
• As one of Alice Springs oldest surviving buildings and under the protection of the National Trust, Adelaide House is located in the heart of the Todd Mall, next to the John Flynn Memorial Church. The building was designed by Flynn in 1916-17, established as part of his 'Mantle of Safety' for the medical care of citizens of the Australia's Outback. Opened in 1926 as the first medical hostel in Alice Springs, the building is now a museum housing memorabilia of the Rev John Flynn ('Flynn of the Inland'). The museum has a varied collection where you can learn Flynn's story and the connection of the bush nursing hostel and the Traeger Pedal Radio, which brought health services to the vast outback. It also houses an innovative award winning cooling system.

It has wheelchair access, tea/coffee, video presentation, brochures available in a number of languages.

The NT Government Library Picture NT has some historical photos of Adelaide House.


The Residency

• Heritage Alice Springs Inc, Cnr Parsons & Hartley Sts (next to the Post Office), ALICE SPRINGS
• Contact: see website • Usually open Monday to Friday 10 am to 2 pm (hours may vary)
• A beautiful restored historical house that was home to Government Representatives from 1927-1973. Operated by volunteers, entry is by a gold coin donation.
---
Ilparpa Claypans


•

Just south of the West MacDonnell Range, approximately 15 km south east of town is one of the lesser known Alice Springs attractions, the Ilparpa Claypans. Located at the western end of the Ilparpa Valley, the twelve interconnected ephemeral claypans form part of the Roe Creek catchment.

This very scenic locale is home to a fragile ecosystem and provides a sanctuary for local wildlife. The claypans are listed as a 'Site of National Botanical Significance' due to the presence of significant ephemeral plants and a wide diversity of plant species and communities. It is also registered as an Aboriginal Sacred Site, that is an important cultural place, especially for Arrernte Custodians.

Check out some of our images, including pictures of frogs and shield shrimps that appear when the claypans fill with water.
---
John Flynn Memorial Uniting Church
• Todd Mall, ALICE SPRINGS NT 0870 • Contact: see website


•

Located in the heart of the Todd Mall in the middle of town, this church was built with the help of his many friends across Australia, as a memorial to his life. Opened by the then Prime Minister in 1956, the design was a result of a national architectural competition incorporating passive cooling, local and national symbolism in its design.

Part of 'The Flynn Trail', you can take a self-guided tour of the church.

Directly opposite is Adelaide House

, one of the earliest buildings in town.
---
The Kangaroo Sanctuary


• 11 Colonel Rose Drv, ALICE SPRINGS NT 0870 • Mobile: 0407 718 409


•

Home to 'the baby kangaroo rescue centre' - Learn how to rescue a baby kangaroo from road kill!

The Kangaroo Sanctuary is a 90 ace (36 hectare) Wildlife Sanctuary, just 15 minutes from Alice Springs CBD and 5 minutes from Alice Springs Airport.

Visitors the the centre can experience close interaction with a 'Red Kangaroo' family, living in their natural habitat, in our 'huge' 50 acre free range exhibit. A guided tour at sunrise or late afternoon for sunset allows visitors to see the kangaroos when they are most active.

Sunrise Guided Tour from 6:30 am - 8 am (summer times only)
Sunset Guided Tour from 6 pm - 7:30 pm
(Please note gates will be open 30 minutes prior to start of guided tour.)
Private tours available by appointment.
What to bring: Walking shoes, camera, water bottle.
---
• 2 Norris Bell Ave, ALICE SPRINGS NT 0870
• Contact: see website
• Open every day except Good Friday and Christmas Day
• The Kenworth Dealer Hall of Fame and Australia's Henworth Truck Museum is part of the National Road Transport Hall of Fame. The Kenworth Dealer Hall of Fame encompasses around 11,000 sq ft of display space, devoted to the history of the Australian designed and built Kenworth, and the Dealer network that brings this product and back up support to customers across Australia.
---
• Contact: see website
• The Cultural Museum, referred to as 'The Jewel of Alice' was officially opened on 30th October 2004, and is an extremely important aspect of the promotion of the Aboriginal culture of Australia. The entrance is located inside the front entrance to Mbantua Gallery.

The museum houses a vast collection of old and new landscape paintings, including Albert Namatjira, Gabriella Wallace and Wenten Rubuntja. There is a bush tucker display, a vast collection of traditionally used artifacts, and an exhibition room, showcasing a selection of permanent collection works.

Check out the museum online...
---
• Part of the Alice Springs Cultural Precinct, the Memorial Cemetery is the resting place of many of Central Australia's pioneers, including Eddie Connellan and his family (a row of white marble headstones), Aboriginal artist Albert Namatjira, Harold Bell Lasseter (who died trying to find a lost gold reef), Miss Olive Pink (anthropologist).
---
• Larapinta Drv, ALICE SPRINGS NT 0870 • Contact: see website
• Located at the Alice Springs Cultural Precinct, the Museum of Central Australia houses an extensive display relating to Central Australia. The exhibits and displays follow the evolution of the landscape and the fascinating creatures that inhabited it, from the unique fossils of extinct megafauna, minerals and meteorites, through to the current desert inhabitants.

From the big bang to the present day, meteorite fragments, fossils and interpretive displays detail the geological history of Central Australia. It is interesting to read the relationship between the geo-morphological explanation of the way this land was formed, alongside the traditional Arrernte interpretation (see Yeperenye Sculpture).

View the replica of an ancient waterhole with some its megafauna including a giant freshwater crocodile and the largest bird that ever lived, the giant bird Dromornis stirtoni and two diprotodontoids (who are a group of marsupials which are now extinct). These megafauna came from Alcoota, a remote and protected location some 200 km north-east of Alice Springs.
---
• Old Courthouse, 27 Hartley St, ALICE SPRINGS NT 0870
• Contact: see website
• Open daily 10 am to 5 pm — closed from mid December and throughout January
• Founded by Mrs Molly Clark of Old Andado Station in 1993, and is dedicated to preserving the place of women in history and their special contribution to Australia's heritage.

The original courtroom now pays homage to the extraordinary courage and persistence of over one hundred ordinary women, past and present, who have been first in their professional field, throughout Australia.

The former magistrate's chamber is dedicated to pioneering women of the Central Australian outback who helped develop the area from the 1870's. Discover the fortitude, courage and ingenuity of these often forgotten women - the wives of missionaries, miners, telegraph stationmasters, governesses and kitchen maids.

See the displays of domestic artefacts, conventional "women's work" including ingeniously homemade household items used on outback properties and samples of traditional craftwork. You can also support and become a member of the NPWHF, visit their website.
---
• 2 Norris Bell Ave, ALICE SPRINGS NT 0870
• Contact: see website
• Open every day except Good Friday and Christmas Day •
• For every visitor there's a history lesson of how Australia's tough terrain broke the best vehicles the world could throw at it; of how war at our doorstep brought mechanisation and development to this nation, and Central Australia in particular; and how a unique breed of road transport pioneer used improvisation, innovation, ingenuity, commonsense and sheer will to carve a road transport network from stark wilderness to give us an industry that has been the nucleus and backbone of Australia's development. The National Road Transport Hall of Fame is located approximately 8 km from the centre of Alice Springs, midway between the airport and town centre.
---
• Old Timers Aged Care Facility, Southern Gate, South Stuart Hwy, ALICE SPRINGS NT
• Opened daily from 2 pm - 4 pm April to October (open by appointment at other times)
• A centrepiece of the museum is the a replica of Flynn's Dodge buckboard, a collection of pioneering equipment, historic photographs and documents, old mining and cameleering relics.
---
• Cnr Barrett Drv and Tuncks Rd, ALICE SPRINGS NT 0870
• Contact: see website • Web: www.opbg.com.au
• Garden 10 am - 6 pm • Visitor Centre 10 am - 4 pm (Closed Christmas Day and Good Friday
• An Arid Zone Botanic Garden in the Northern Territory. Miss Olive Pink arrived in Central Australia in 1930, and lived with the Aboriginal people in the Tanami Desert. She studied the Arrernte and Walpiri people and was a great advocate of Aboriginal rights. Later she lived in Alice Springs and worked for the creation of this arid zone botanic garden.
---
Owen Springs Reserve


•

Located just a short drive southwest of Alice Springs, the Reserve is a favourite destination for 4WD visitors, offering an insight into some of Central Australia pioneer heritage, exploring our beautiful outback and communing with mother nature. The Reserve also offers quiet bush camping without facilities. Dog owners are also permitted to bring their family pet to the southern part of the Owen Springs Reserve, south of Waterhouse Range.
---
• Stuart Tce, ALICE SPRINGS NT 0870 • Contact: see website
• Web: www.flyingdoctor.org.au / www.flyingdoctor.net
• Mon-Sat 9 am - 5 pm/Sun & Public Holiday 1 pm - 5 pm (Closed Christmas Day & New Years Day)
• Visit a working base that has been in operation since 1939 and learn more about this unique service. See how we provide routine medical services to outback isolated areas — towns, communities and homesteads, view an informative video and observe the coordination of "real time" medical evacuations, enjoy our interactive museum, purchase quality souvenirs, and relax in our café in one of the town's finest heritage buildings. The Royal Flying Doctor Service is a non-profit organisation, with 100% of proceeds going towards replacement of medical equipment and aircraft.

Also see our Snapshots of Australia: Royal Flying Doctor Service.
---
Sounds Of Starlight Theatre, Alice Springs
• 40 Todd Mall, ALICE SPRINGS NT 0870 • Contact: see website •



•

Established by Andrew Langford who is recognised internationally as a major exponent and interpreter of the didgeridoo, the Sounds of Starlight is centrally located in Alice Springs' Todd Mall and features a modern theatre and retail gift shop and art gallery.

By day, the theatre becomes a demo-studio for would-be musicians learning to play the didgeridoo and visitors wanting to discover more about the traditional art and culture unique to Central Australia. During April to November, The Sounds of Starlight Theatre transforms into an exciting and energetic venue for "THE DIDGERIDOO SHOW OUTBACK" during which Andrew and his accompanying musicians interpret various stories and traditions with a wide range of didgeridoos, percussion, and soundscapes.
---
• Cnr Larapinta Drv and Memorial Ave, ALICE SPRINGS NT 0870 • Contact: see website
• The Strehlow Research Centre manages one of Australia's most important collections of film, sound, archival records and museum objects relating to Indigenous ceremonial life. The Strehlow Collection was accumulated by the late Professor T.G.H. Strehlow during a lifetime of anthroplogical research with the Aboriginal people of central Australia.

A display on the life and work of TGH Strehlow features in the Museum of Central Australia. Non-culturally sensitive material from the Collection is included in the display.
---
• Although Rock Wallabies are elusive creatures in the wild, they can sometimes be spotted at some of the popular tourist attractions such as Simpsons Gap, Palm Valley, Ormiston Gorge, and Standley Chasm. People are asked not to feed the wild animals.

If you are not fortunate to see Rock Wallabies, there is one place in Alice Springs where you may still be able to see them, the former Heavitree Gap Outback Lodge where you can get up close to them as they come down from the range to feed and drink. Should only be fed special formulated feed that was available at the lodge reception (will let you know what is happening with the feeding).
---
For those with more time on their hand, you can base yourself in Alice Springs to visit the following outlying attractions, with Uluru being about 456 km away. To view some of the distances, click here.

Birding Watching in Alice Springs / Central Australia

• Located some 140 km south west of Alice Springs and 20 km south of Hermannsburg is the Finke Gorge National Park. Covering an area of 46,000 hectares, the park was proclaimed as a flora and fauna reserve in the 1920s, then as a National Park in 1978. The park has a myriad of gorges and gullies, which is home to a diverse range of rare and unique plant species. Most famous of the natural features and popular with many tour operators is Palm Valley, home to the Red Cabbage Palm, remnants of a tropical rainforest that covered this area 60 million years ago.
---
Illamurta Springs Conservation Reserve
• Has a permanent natural spring, with access by 4WD via the Finke River.
---
• Officially opened in April 2002, will offer 13 sections of a 250 km walk through a fantastic region of the Outback.
---
• A 700 million-year-old sand and rock mesa that lies in a straight line with Uluru and Kata Tjuta. There is a lookout just 11 km east of Curtin Springs that offers fantastic views.
---
• Stop off at the food and fuel stop on the Lasseter Highway (about 54 km from Erldunda), there is friendly service, accommodation, caravan and camping facilities. There is an InfoStand at the roadhouse.
---
Mount Zeil
• The Northern Territory's highest peak at 1,531 metres. A great place to view the peak in comparison to others, is at the Mount Sonder Lookout.
---
• Iwupataka Land Trust
• Ph: 08 8956 7440 •

• Gates open 8 am to 6 pm (no entry after 5 pm)
— entry subject to a small fee

• Located 50 km by sealed road from Alice Springs, Standley Chasm has been gouged into touch sandstone by the floods that, over untold millions of years, have surged down a narrow tributary of the Finke River system. The result is a deep red cleft, with slopes on either side rising 80 metres above the floor. Regardless of the weather or time of day, the Chasm is at its most dramatic an hour either side of noon on a sunny day. It is at noon that the desert sun is perfectly aligned, drenching Standley Chasm in a shower of brilliant red light, the sheer walls glowing from the rflected sunlight to create a breath-taking display.

Standley Chasm is located in a private flora and fauna reserve owned by the Iwupataka Land Trust. All native plants and animals are protected. Do not pat the dingoes. Check out our images of Standley Chasm.
---
Tnorala Conservation Reserve
• 142 million years ago a comet crashed into the area, creating a huge crater. The formation is of great significance to the local Aboriginal custodians.
---
• Includes two of Australia's most significant cultural landmarks, Uluru and Kata Tjuta, a must see for visitors to this region.
---
• Located between Alice Springs and Uluru it offers 300 m sheer cliff faces, a geological 'lost city', and palm fringed waterholes.
---
• As part of the incredible Larapinta Trail, this rugged landscape must see features include: Simpsons Gap, Ellery Creek Big Hole, Ormiston Gorge, Serpentine Gorge, Glen Helen Gorge, Redbank Gorge, Tnorala (Gosse Buff) Conservation Reserve, Ochre Pits and Namatjira's Twin Ghost Gums.
---
Check out our AusEmade gallery of products from Zazzle.com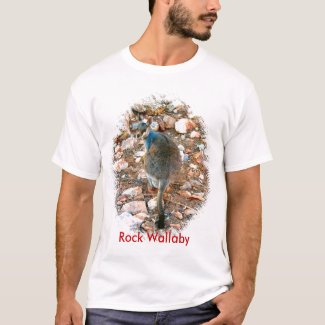 Rock Wallaby - Tshirt
by
Ausemade
Make
Customized Shirts
At
Zazzle.com